DRYK plant drinks are produced on oat or peas. Simple as that.
Each product has been carefully developed with the purpose to replacing the qualities known from milk. All our plant drinks has a mild taste and a delicious consistency. They can be used exactly as you would use milk, both in coffee and cooking, just more sustainable.

Our organic oat drink created specially for coffee

-

Co2 foodprint:
0.36 kg CO₂e/kg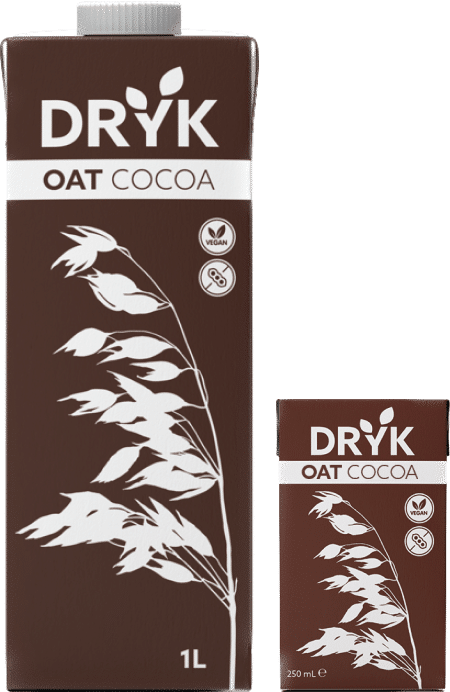 Our oat drink added with cacao
-

-

Co2 foodprint:
SINGLE PURCHASE OR SUBSCRIPTION
We have made it easy for you to decide when you want to revieve your DRYK products.
See your options beneath.
Our standard packaging containing 6 liters of plant drinks, helps reduce the CO2 carbon print associated with shipping. When you place an order of DRYK, you choose one or more boxes of 6 liters of plant drinks. To make it even more sustainable, we have chosen that orders only gets shipped twice a week.
When to make a single purchase, to simply choose a box of your preferred plant drink. You can order as many variants and boxes as you want. If you buy 3 or more boxes, the freight to your nearest pack shop is free.
Not sure which one of our delicious plant drinks you wish to puchase? We understand that it can be hard to choose. That is why we have created a tasting box. The tasting box contains one of each of our products. This way, you can taste all of our plant drinks and decide on your favourite.
You can choose to subscribe on your plant drinks. In that way, you will automatically receive new plant drinks before you get out of stock.
You can tailor your subscription according to your needs. Our solutions range from sending every 2 weeks to every 2 months. In case you want to skip a delivery, this is of course also an option. We always send a reminder the day before shipping so that you can cancel in time. Your DRYK subscription is non-binding and can be canceled at any time. Click here for more information.