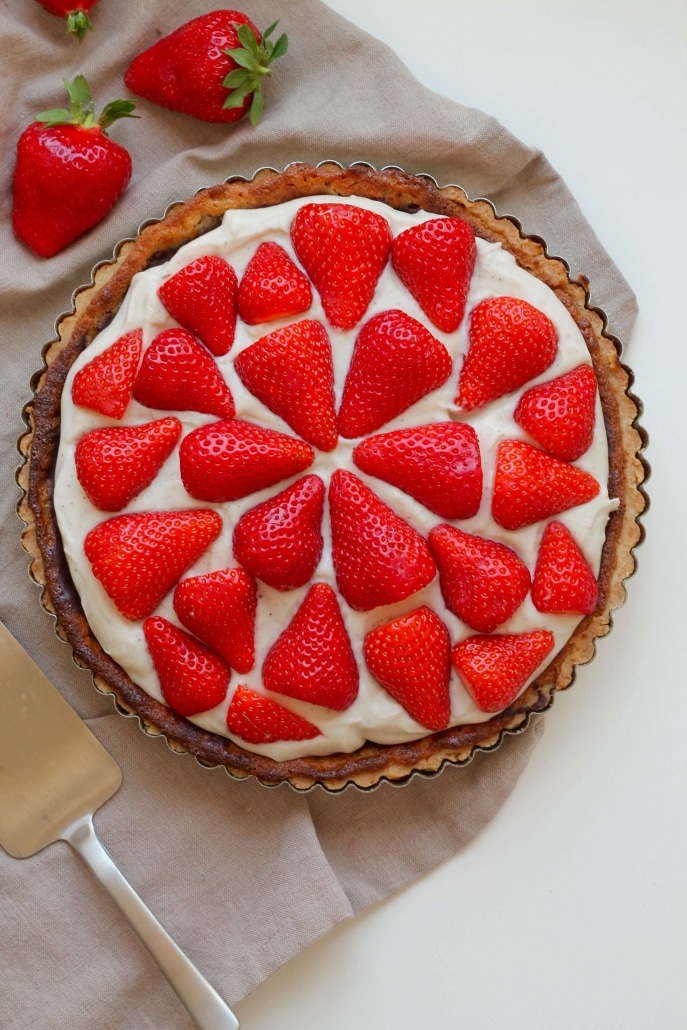 You almost can't say summer without mentioning new seasonal strawberries and strawberry cream pie. Especially not if you live in Denmark. Today you will get the recipe for a traditional and classic strawberry cream pie or what we in Danish call 'jordbærtærte' (strawberry tart). It consists of a sweet shortcrust, marzipan filling, dark chocolate, vanilla cream/custard and strawberries. It can even be made into a vegan strawberry cream pie, if you want. We will give you some tips for that.
Vegan strawberry cream pie recipe
if you ask us, a Danish strawberry cream pie has to be traditionel. It has to consist of the crispy shortcrust base that is filled with marcipan filling before it bakes in the oven. After cooling down, a layer of melted dark chocolate needs to set and then it is topped with an airy and delicious vanilla custard/cream and ripe summer strawberries. This is also what you can expect with this recipe.
We have used Dryk Pea Drink for the custard cream, and it tastes so good. Besides this, you can choose to use vegan cream, chocolate and butter for a 100% vegan strawberry cream pie. It tastes almost to good and is difficult to keep your hands off.
Remember that you can get more inspiration by visiting our recipes with plant milk.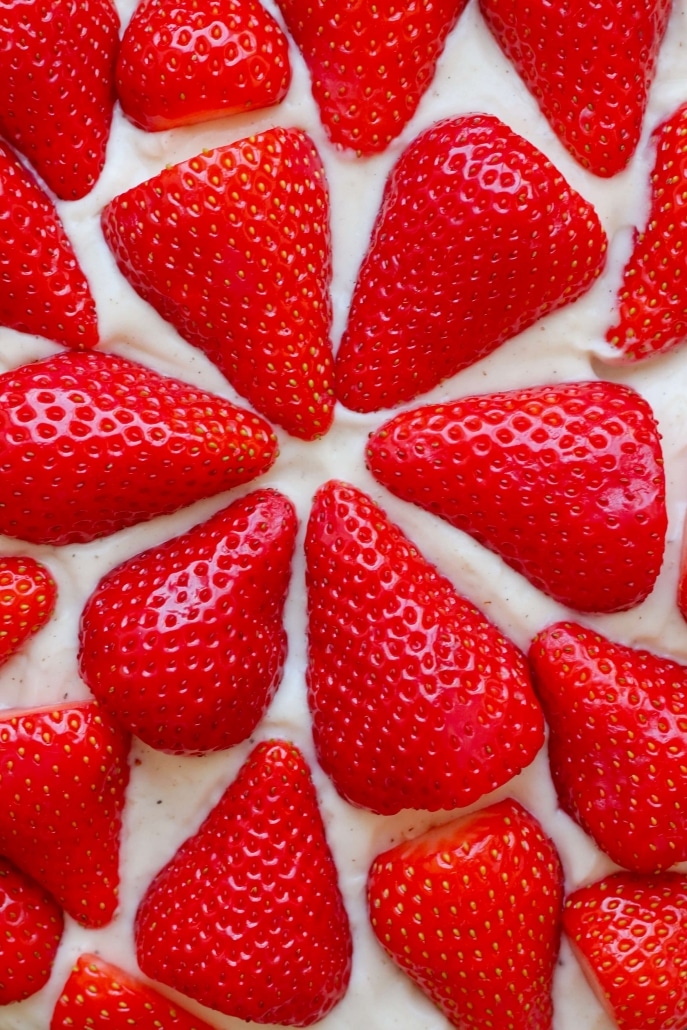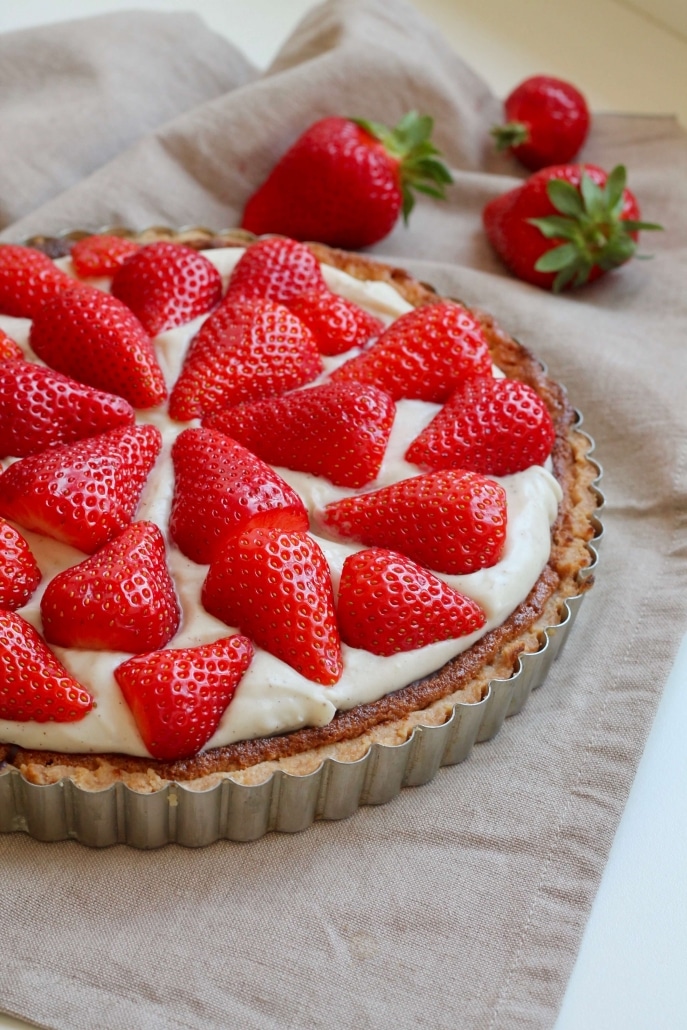 Vegan berry cream pie
This might be a classic strawberry cream pie. That often means butter, milk, cream and eggs. We have made a recipe without eggs (you won't even notice), and then we have used Dryk Pea Drink in the vanilla custard. You can choose to use vegan butter, chocolate and cream or not. Both works well and taste almost alike.
These days we can almost always make vegan versions of classic recipes, because the market has changed as much as it has. Here at Dryk, we love to use our plant based milk in our cooking – bread, cakes, breakfast and dinner. It can easily replace milk and even water.
It you want to see a video of this vegan strawberry cream pie being made, you can find it on Dryk Instagram.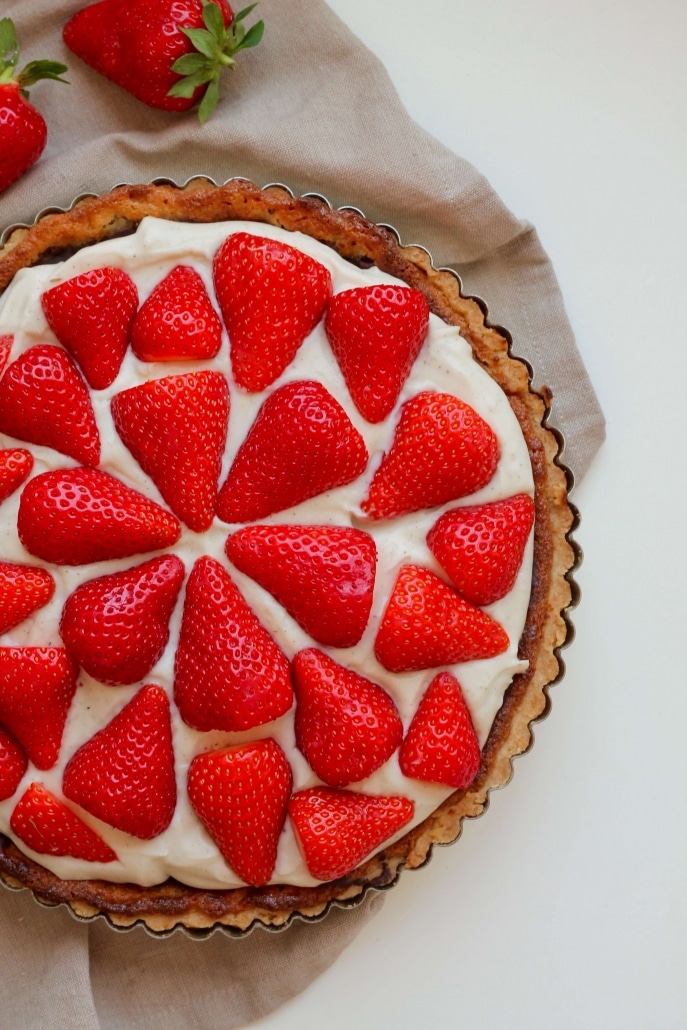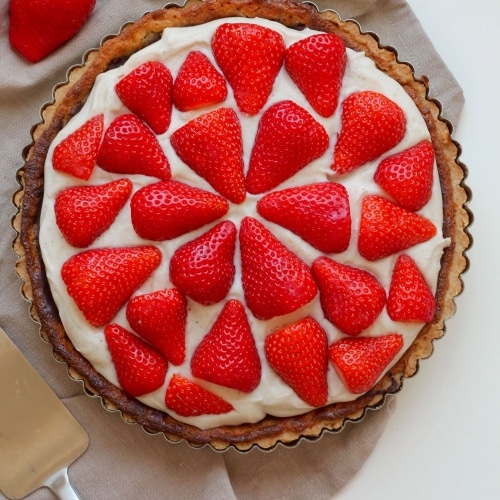 Vegan strawberry cream pie
A recipe for the traditional Danish 'jordbærtærte', a strawberry cream pie with a shortcrust base, marzipan filling, dark chocolate, vanilla custard cream and fresh strawberries. Make it vegan or not – that is up to you! Will feed at least 8 people.
Ingredients
Shortcrust base
220

g

white flour

50

g

sugar

100

g

butter

cold, vegan option
Marzipan filling
100

g

butter

vegan option

100

g

sugar

180

g

marzipan

¼

dl

Dryk Pea drink

1

tbsp

white flour
Vanilla cream custard
½

liter

Dryk Pea drink

you can also use our oat drink

5

tbsp

cornstarch

45 g

40

g

sugar

1

vanilla pod

or ¾ tsp pure vanilla seeds

1

dl

full fat cream

vegan option
Additionally
400

g

strawberries

fresh and ripe

80

g

dark chocolate

vegan option
Instructions
Shortcrust, marzipan filling and vanilla custard cream
Start making your shortcrust by adding flour, sugar and cubes of cold butter in a bowl.

Crumble it with your fingers until there are no lumbs of butter left. Add a few tablespoons of water (start with 3) and quickly assemble the dough – don't knead, it just needs to be shaped into a ball.

Cover the bowl and place in the fridge for 30 minutes while preparing the marzipan filling and vanilla custard.

Whip the marzipan, sugar and butter for the marzipan filling together in a bowl. Add the pea drink and whip until fluffy. Whip in the flour and set aside.

Make the vanilla custard cream by halving the vanilla pod and scrabing out the seeds. Mash it with a tablespoon of the sugar.

Put the vanilla sugar, the remaining sugar, pea drink and cornstarch in a small pod and whip together.

Bring the mixture to a boil under constant whipping and let in boil until it becomes a thick custard – it takes a few minutes.

Place the custard in a bowl and put it in the fridge, covered, to cool completely.
Bake and assemble
Butter a pie tin and turn the oven on 175 degrees celcius fan.

Roll out the cold shortcrust dough between to pieces of baking sheets to a thickness of 3-4 mm.

Place it in the buttered pie tin and make sure to press into all sides and edges. Cut off excess dough and stick a few tiny holes with a fork on the bottom and the sides.

Distribute the marzipan filling evenly in the pie on top of the crust and bake it for about 18-20 minutes until nicely golden on top.

Let the pie cool completely. Then melt the chocolate in a water bath and smear it on top of the cold pie. Let the chocolate set completely.

Whip the cold, stiff vanilla custard until airy and soft. Whip the cream into a firm whipped cream and mix it gently in the custard a little at a time.

Smear the custard on top of the set dark chocolate and decorate with halved strawberries.
Danish jordbærtærte
Maybe you are reading this because you have tasted or heard about the Danish 'jordbærtærte'. Or maybe you are just into strawberries, vanilla custard cream and pies. This is the right recipe for you. A strawberry cream pie is one of the best sommer cakes if you ask us. The combination of the sweet and crispy base, the creamy filling and the fresh and juicy topping is perfect.
Are you more into raspberries, blueberries or any other kind of berry, you can easily replace the strawberries and make your own berry pie.