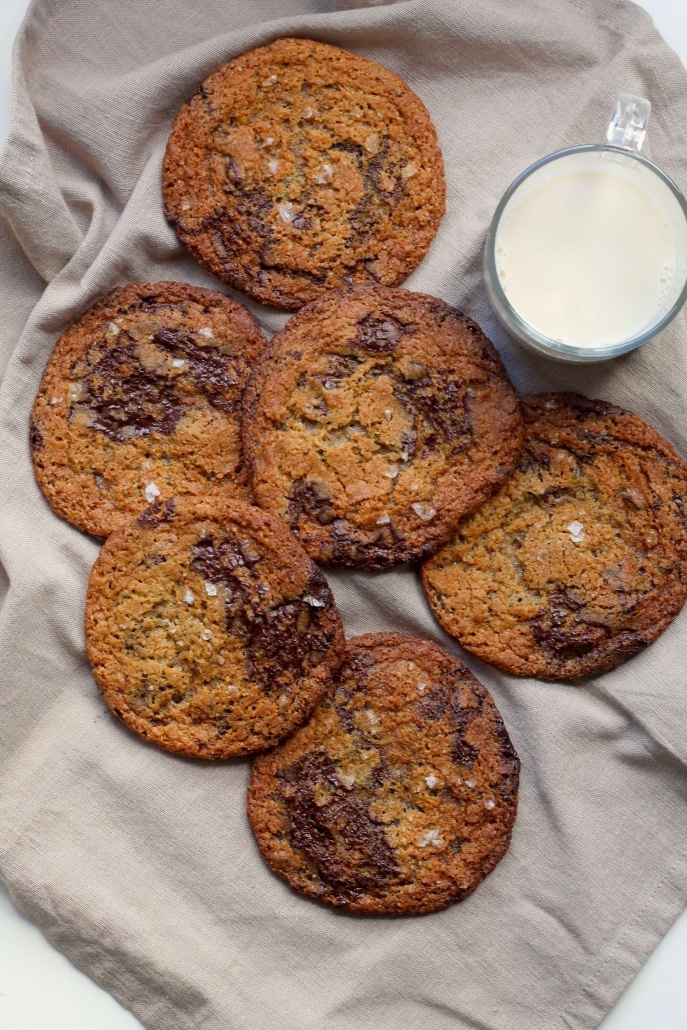 No matter if you are looking for a recipe for vegan chocolate chip cookies or just looking for the best chocolate chip cookie recipe, you are at the right place. These cookies are without eggs and milk is replaced with oat milk and butter with a vegan version. If you are not making vegan cookies, you can just use normal butter. It is actually our new favourite cookie recipe. Or maybe just recipe when it comes to something sweet.
Recipe for vegan chocolate chip cookies
Here at Dryk, we have experimented with developing our own cookie recipe. We call them 'crispy on the edges and chewy in the middle-cookies'. That is the perfect cookie right? They are actually vegan and made with our oat drink, but no one will guess it. That is how good they are. Just like big American cookies with chunks of dark chocolate and sea salt on top. Perfect to dip in a glass of cold oat milk.
Usually we make a big portion like this one, where you get 12-14 big cookies. We roll up the dough in balls and freeze them. Then we can easily grab cookie dough balls from the freezer, sprinkle with sea salt and bake them directly in the oven. That really saves those cookie cravings when you can serve cookie in under 20 minutes.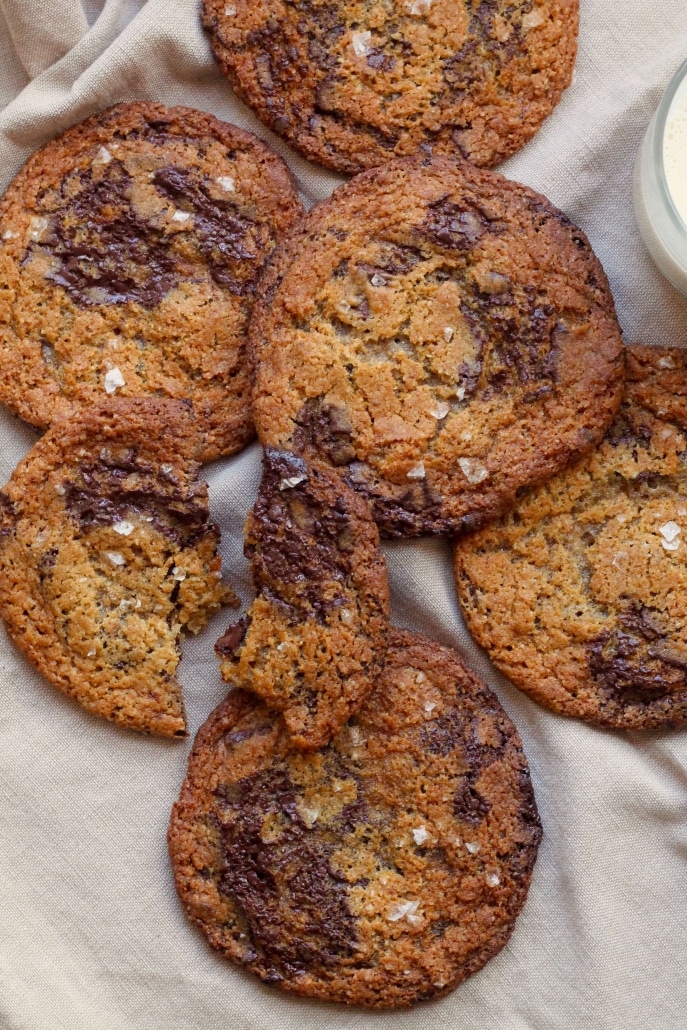 The best chocolate chip cookies
These cookies really are the best recipe for chocolate chip cookies that we have ever tried. They are super easy to make and can be served as something sweet alongside a cup of coffee, for guests, on a normal Tuesday or whenever the cookie cravings strike. It happened more often than we will admit.
If you want to see a video of how to make it, you can find it on our Instagram.
Vegan chocolate chip cookies
You will never know that these cookies are vegan. They are crispy on the edges and chewy in the middle – exactly like a cookie should be. Filled with chunks of dark chocolate and sprinkled with sea salt. The recipe gives 12 large or 16-18 small cookies.
Ingredients
110

g

butter

can be vegan

190

g

muscovado sugar

75

ml

Dryk Oat Drink

regular or barista

190

g

white flour

1

tsp

baking powder

1

tsp

baking soda

1

tsp

corn starch

½

tsp

fine salt

1

pinch

nutmeg

finely grated, can be omitted

150

g

chocolate

can be vegan

sea salt
Instructions
Whip soft butter and sugar together until creamy.

Whip in the flour, baking powder and soda, corn starch, nutmeg and oat drink until just combined.

Chop the chocolate into fairly big pieces and fold it in the dough.

Place the cookie in the fridge in at least 1 and maximum 24 hours.

Turn on the oven at 175 degrees celcius fan.

Place baking paper on baking sheets and shape 12-14 bowls of dough. See the note if you don't want to bake them all now.

Place them on the baking sheets with room between as they will melt and get big. Dont flatten them out, keep them round. Maybe you have to use 3 sheets if you are baking them all at the same time.

Sprinkle with a bit of sea salt and bake them for 10-14 minuter depending on size. They have to be pretty golden on the edges and just golden in the middle.

Let them cool for 5-10 minutes on the baking sheet before moving them to a rack to keep completely.
Notes
If you don't want to bake them all at the same time, you can freeze the cookie dough balls and bake them directly from the freezer whenever the cookie craving occur. They might need 1 minut more when frozen.