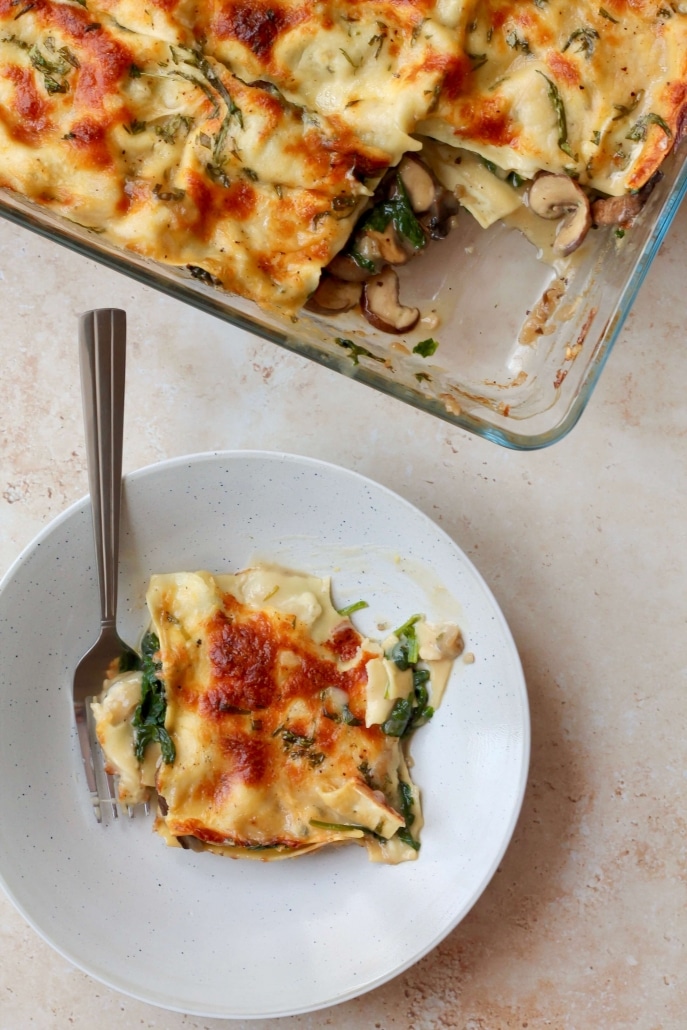 You have probably has lasagna before and maybe also a vegetarian lasagna. But have you ever tried mushroom lasagna? If not, it is about time. We have just discovered it here at Dryk and now we won't forget it. It might be the best vegetarian lasagna, we have ever had.
Recipe for mushroom lasagna
This mushroom lasagna is probably almost like you know a lasagna. With lasagna sheets, filling and a bechamel sauce. We have used fresh lasagna sheets that don't need as much time in the oven. The filling consists of lots of mushrooms, fresh spinach, garlic, lemon zest and fresh tarragon. Especially the latter really gives a great, mail flavour from the delicious herb that can be used for so much more than just bearnaise.
The bechamel sauce is of course homemade with our pea milk, and it is just as good as a classic one made from cows milk. Just down get frightened about making it yourself because it is really easy to make your own bechamel. Of course we have topped it all with cheese, and here you can choose if you are going with the vegan cheese or not.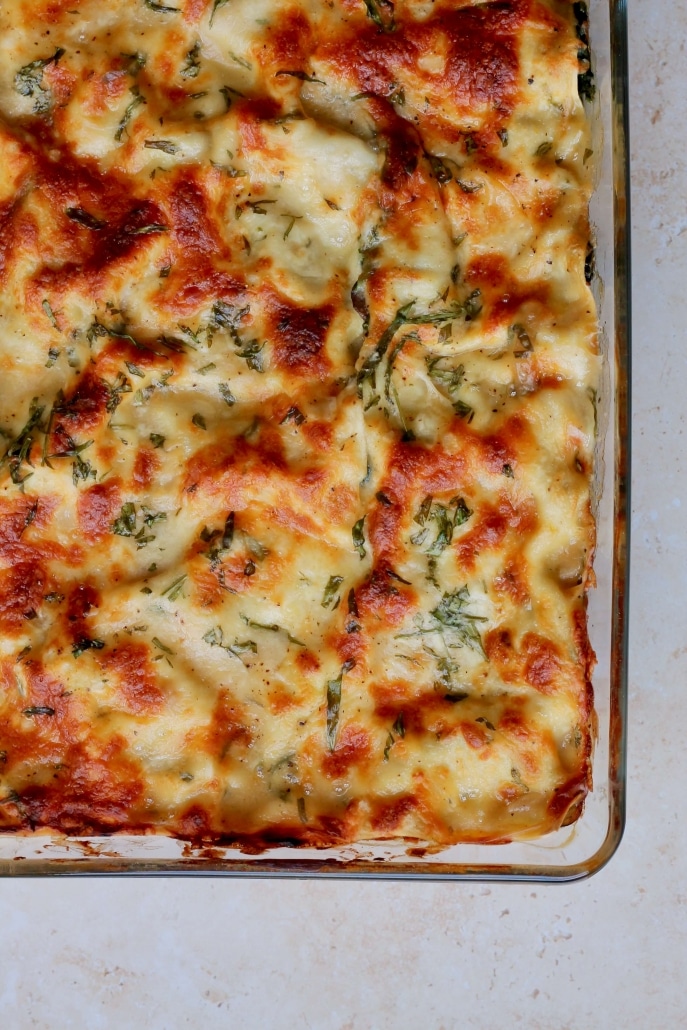 Vegetarian lasagne with a vegan option
Even though this is a vegetarian lasagna, with a vegan option, you won't miss the classic lasagna or go to bed hungry and unsatisfied. The recipe is tested and very much approved by meat eaters and vegetarians. It is creamy, full of flavour and contains all of the good things from the classic. I might think that is has become a new favorite here at our place.
Tips for your mushroom lasagna:
If you are not a big tarragon fan, you can use other herbs like parsley, dill or chervil.
When it comes to mushrooms, you can use whatever is in season.
If you have other vegetables at home that needs to be used, just fry it on a pan and put it in the lasagna. It could be cabbage, zucchini, tomatoes or similar.
This lasagna is also great next day so you can easily make a big portion.
If you want to see a video of this lasagna, you can find it on our Instagram.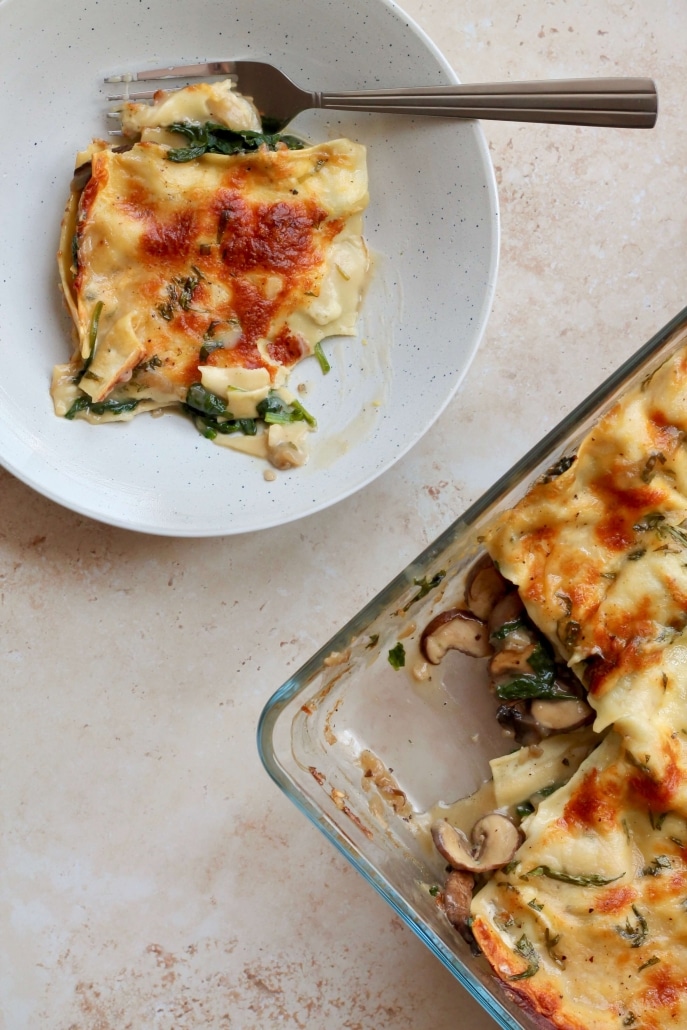 Mushroom lasagna
A delicious creamy vegetarian mushroom lasagna with spinach and homemade bechamel. Easy to make and so comforting. You can also make it vegan by using vegan cheese.
Ingredients
1

onion

2

cloves

garlic

600

g

brown mushrooms

2

tbsp

balsamic vinegar

400

g

fresh spinach

25

g

butter

can be vegan

3

tbsp

white flour

5

dl

pea milk

125

g

grated cheese

can be vegan

½

eco lemon

1

handfull

fresh tarragon

salt and pepper

olive oil

300

g

lasagna sheets

fresh, can be vegan
Instructions
Peel and finely chop onion and garlic.

Rinse the mushrooms and chop them into thin slices.

Fry the onion and garlic in a big pan with a couple of tbsp of olive oil on a medium heat until soft.

Add the mushrooms and balsamic vinegar and let it fry until the mushrooms softens.

Add rinsed spinach and let it get mushy. If there isn't enough room on the pan, you can do this step on another pan and then add the spinach to the mushrooms after.

Taste with salt and pepper.

Make the bechamel by melting the butter in a small pot. Whisk in the flour and fry for a minut or two while whisking.

Add the pea milk a little at a time while whisking, until it thickens and then add some more pea milk. Keep going until all of the pea milk is used and the bechamel is thick.

Add finely grated lemon zest, half the grated cheese and half of the tarragon, finely chopped. Taste with salt and pepper.

Layer the lasagna in a casserole: first a bit of bechamel and mushroom filling and then fresh lasagna sheets, ½ of the remaining mushrooms filling, ⅓ of the remaining bechamel and repeat this one more time.

Top with the last layer of lasagna sheet (three layers in total) and the last bechamel – make sure it covers all the sheets. Sprinkle with the last cheese and tarragon.

Bake at 180 degrees celcius fan for about 25 minutter.