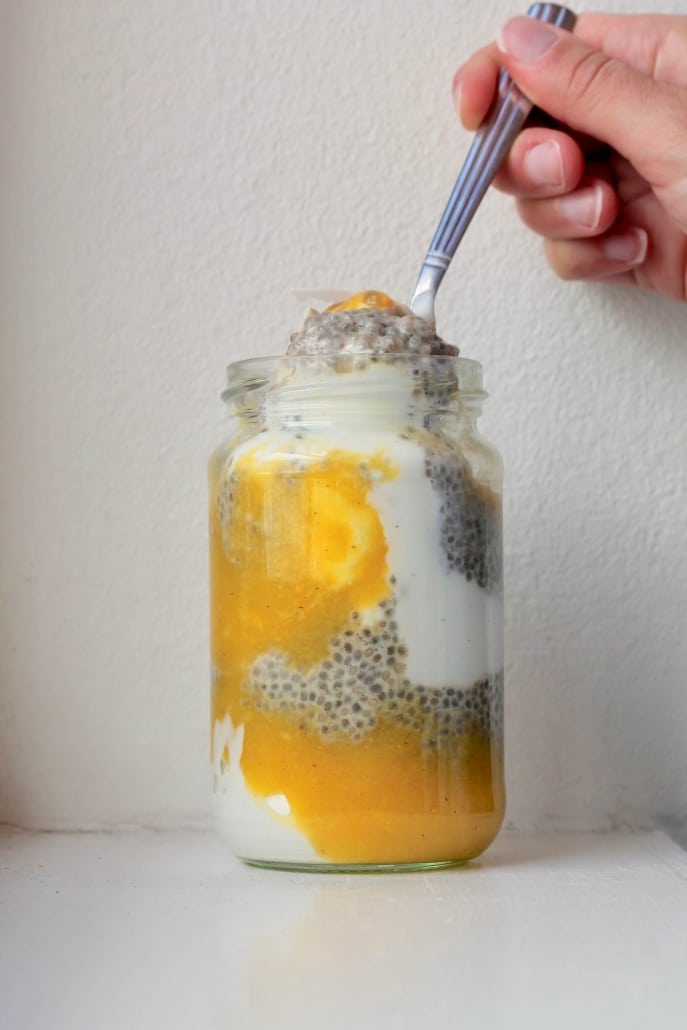 Have you also gone chia pudding crazy the last couple of years? Or do you still think it is a bit too modern for you? No matter what, we are pretty sure that you will love this chia pudding with oat milk. It is a tropical summer version perfect on hot days or when you want a light and fresh breakfast. It has to be prepared the night before and is perfect to take with you, to go, on the run.
Recipe for chia pudding with oat milk
We have heard people say that they are not into the consistency of chia pudding, as it can be a little sticky, tasteless and without consistency. We get that and we hear you. This recipe for chia pudding is not sticky or boring. It is soft, creamy, sourly sweet and with a little crunch from the passionfruit and coconut. The chia pudding itself is layered with (vegan) yoghurt and a mango compote with lime. And it is topped with passionfruit and coconut flakes. Are you more of a classic chia pudding person, you can just choose to top it og layer it with something else you like.
You should also check out our recipes with plant milk, if you want to be inspired on recipes with oat and pea milk.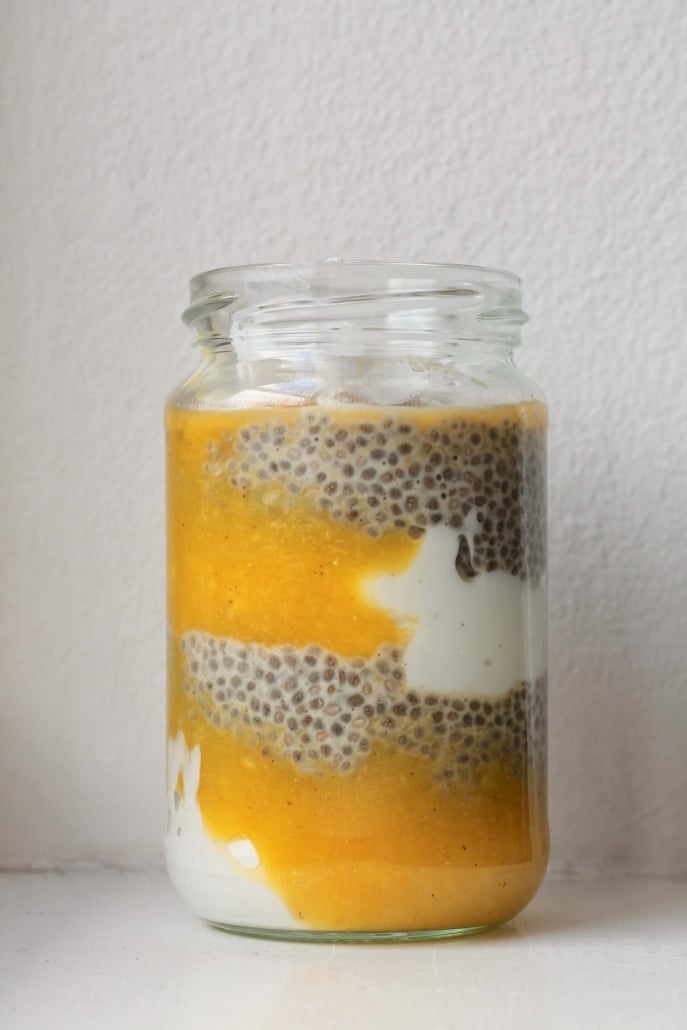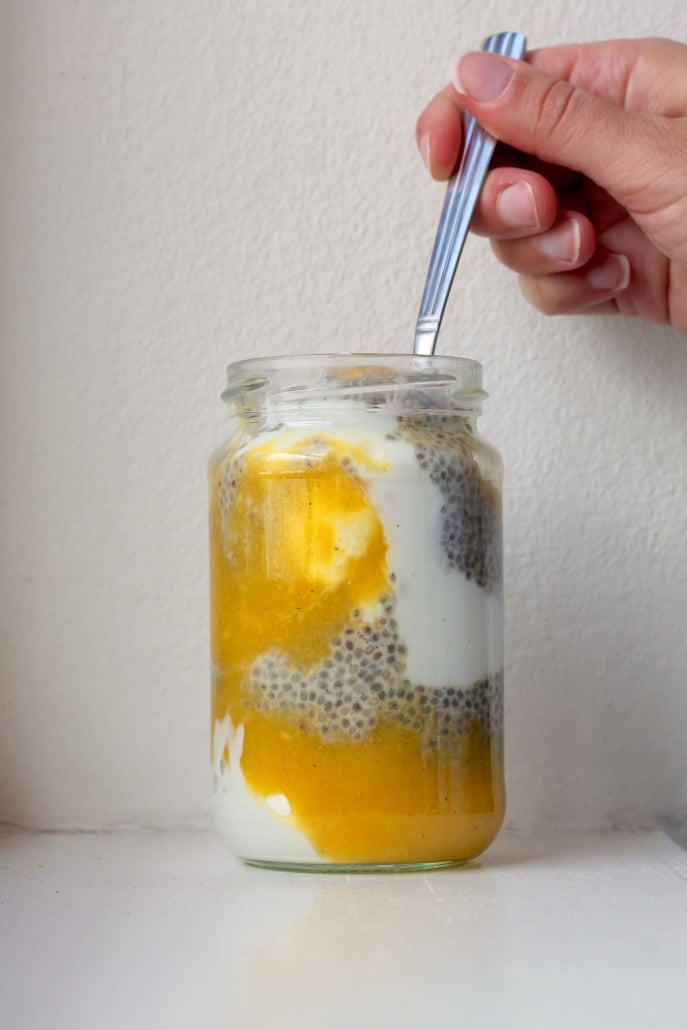 Chia pudding with oat milk
In this recipe we have used our Dryk Oat Drink. This means that it is a vegan chia pudding with oat milk. You might call it oat milk, but according to laws we have to call it oat drink. No matter what, it is so delicious. The oat drink really gives it a mild sweetness and flavour from the oats. It also goes well with the vanilla, mango and passionfruit. The chia pudding has to be prepared the night before as the chia seeds has to soak up the fluids and become a creamy pudding. In the morning you can layer it and eat it right away or take it to go.
Even though this portion of chia pudding screams summer and sun, we eat it all year around. In fall with apple compote and toasted nuts, in the winter with oranges and cashew butter or in summer with fresh berries and rhubarb compote. You have to promise us to try.
If you want to see a video of how to make it this chia pudding with oat milk, you can check our Instagram.
Chia pudding with oat milk
A delicious, light and fresh chia pudding made with oat milk and layered with (vegan) yoghurt, mango compote, passion fruit and coconut flakes. Remember that you have to prepare it at least the night before but you can multiply the recipe so that you have enough for several days.
Ingredienser
Chia pudding
2

tbs

chia seed

1

pinch

vanilla powder

1½

dl

oat milk

2

tbs

yoghurt

can be vegan
Toppings
½

mango

1

passionfruit

1

tbs

coconut flakes

lime juice
Sådan gør du
The night before
Mix the chia seeds, vanilla and oat milk in a glass or small bowl.

Cover it and place in the fridge over night.
Before eating
Mix yoghurt in the chia puddings.

Top with your favourite toppings. It could be mango blendet with a little lime juice + passionfruit and coconut flakes. If the compote is too sour, you can blend a little sirup in there.
Healthy chia pudding
Chia seeds are actually a superfood. They have a high content of dietary fiber with 5 g. per tablespoon. The seeds can absorb up to 27 times their own weight. When they do, it strengthens your digestion and keeps you full longer. They also contain many omega-3 fatty acids. If you eat 3 tablespoons, you get more than eating a filet of salmon. Of course it can't replace this fatty acids as they are different, but it is very healthy for you. Besides that, they also contain calcium, proteins and antioxidants, so you can truly say that they are a superfood.
It is important though, that you let the chia seeds soak up a good amount of fluids so that they don't soak of the fluids in your stomach. This might give you a stomach ache.
Easy and delicious breakfast
Chia pudding really is a delicious and easy breakfast. It can be made in so many different versions depending on flavour, season and likings, but also because it can be made the night before. You just have to mix chia seeds and fluids (we use 2 tbs. seed per 1,5 dl fluids) and then store it in the fridge overnight. The next day, you can top it, layer it or eat it as it is. We like to stir it with some (vegan) yoghurt for a more creamy texture and top it with flavour and crunch as a contrast to the chia pudding.